---
Mini & Toy Goldendoodle Puppies of Illinois!!
Each one of our mini or toy goldendoodle puppies comes with the following:
* Up to date on vaccinations and dewormings
* Record of vaccinations and dewormings
* Most pups have their dewclaws removed – see litter details
* One year genetic health warranty
* Health certificate from our vet
* Collar and leash
* 4lb Starter Supply of Puppy Food
After you have completed your $250 deposit, (balance due with IL tax when you pick up) you will be directed to a page where you can schedule your pick up date and time. Please call or email with any questions!
Hand delivery available anywhere in the US.
Contact Us for details.
We will have more Goldendoodle puppies in the fall. Our friends at Prairie State Puppies still have a few ready to adopt!
---
Kayla & Pretzel's Mini F1 Goldendoodle Puppies
Mini F1 Goldendoodles
Dam: Kayla
Sire: Pretzel
Born 12-7-18
4 Male / 5 Females
Expected mature weight: 25-35lbs
Prices as marked below:
$250 Deposit to Reserve. Balance due upon pickup as soon as 2-1-19!
---
Kinza – RESERVED
Mini F1 Goldendoodle Female – Reserved for Alan V.
---
Kaleb – RESERVED
Mini F1 Goldendoodle Male – Reserved for Susan B.
---
Kay – RESERVED
Mini F1 Goldendoodle Female – Reserved for Robert E.
---
Kloey – RESERVED
Mini F1 Goldendoodle Female – Reserved for Jean B.
---
Kevin – RESERVED
Mini F1 Goldendoodle Male – Reserved for Michelle C.
---
Kendall – RESERVED
Mini F1 Goldendoodle Male – Reserved for Justin West
---
Kathy – RESERVED
Mini F1 Goldendoodle Female – Reserved for Tabatha P.
---
Karen – RESERVED
Mini F1 Goldendoodle Female – Reserved for Adam G.
---
Kyle – RESERVED
Mini F1 Goldendoodle Male – Reserved for Cathleen N.
---
Testimonials
I love my little boy Wilson (Glen) from Glory/Nacho) He is doing well and growing quickly. I don't think I could have picked a better puppy. Thank you
–Peggy H.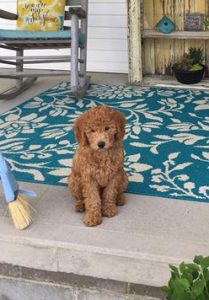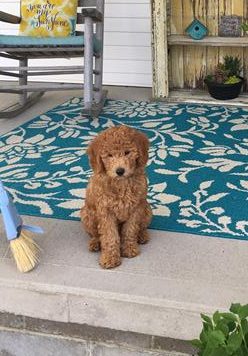 I… wanted to send an update on Oliver (formerly Kade) whose parents are Kayla and Nacho. Oliver is now almost 16 months old and he is the best dog I could ever imagine owning. He is such a lover and amazing with children including my 1 year old nephew and 5 year old niece. He absolutely loves playing with other dogs and is full of energy but he also knows when it's time to calm down and snuggle. Oliver is so intelligent and the best companion I could have asked for. We had our one year vet visit this week and he is healthy as can be weighing in at 32.5 pounds. I can't thank you enough for my amazing pup!
–Lizzie
With the help from some dear friends Jasper (from a litter by Jessa/Nacho) was adopted on December 2, 2016 for our sweetest Luke Jones. Luke had been saving his $ for a toy Doodle while battling a hard fought battle with Brain Cancer. And a Toy Goldendoodle was just what Luke needed. In the short 8 months that Luke got to spend with his beloved Jasper he brought him so many smiles and memories I will forever be thankful. Jasper helped Luke get through the hardest days of his life, he made him smile, laugh and the best cuddle partner there ever was. Sadly Luke was called home to heaven on July 21, 2017. Luke was never alone with the help of Jasper, his parents Chad, Nikki and older brother Caleb. Jasper is of course still residing with Lukes parents and brother and I am still trying to figure out a way to dognapp him!!  We visit them often and sweet Jasper is always the first to greet us at the door. The first photo is the day Luke was surprised with him. The second photo is the day we snuck him in to see his family at Riley Children's Hospital and yes they were all surprised and the last pic is Jasper a month ago. Thank you Maple Valley Puppies for bringing a sweet happy smile to Luke's face.
–Mary Jo

Shade (now named Rev) is out of Sheila & Sammy's litter born June 6th, 2016. He has been a great pup thus far. Vet say's he is extremely healthy. He is fantastic around all the grand kids and neighbors kids. He is a bundle of energy as well. Everywhere we take him people just love him and want to know more about him and where we got him. He is turning out to be my wife's baby and my buddy. We took him on his 1st road trip to the beach and he did fantastic in the car not mention had a blast playing at the beach. He also loves to go camping with us on the weekends. Can't thank you all enough for a great pup and will always recommend you all to anyone that inquires.
Thanks again, Wade & Christine Stevens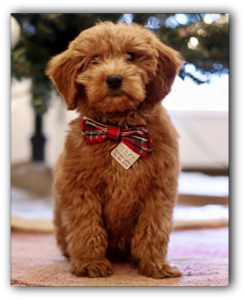 March 2015
We wanted to send an update on Oliver. He just turned 5 months old and we are SO in love with him! His dad is Nacho and his mom is Teresa. We couldn't ask for a better companion. He is friendly, smart and such a joy to be around. Thank you for the opportunity to welcome this sweet boy into our lives.
Braedon and Chelsea
Ps. We couldn't help but notice every single one of Oliver's brothers and sisters went to home in the same state we reside – Illinois. We would LOVE for him to meet them and play! Is there anyway you could give us some sort of contact information? Thanks so much!
Nov 2016
I just wanted to let you know how much we LOVE our Ruby ( formerly Carly, from Nacho and Kristie's litter). She was potty trained within 2 weeks, and knew multiple commands by ten weeks and has passed all her puppy training courses. She will be going into training to be a therapy dog. She will be 8 months old in November and is the sweetest puppy ever. She attended over 60 baseball games her first 4 months here and loves everyone she meets. I would definitely get another puppy from Kristie and Nacho. Let me know if they will ever breed together again! Here are some pictures of our sweetheart ❤
Hello Micah and Rose,
We are loving our girl Ellie!!! She's growing so quickly and is so smart. We are taking her to puppy classes. I hope that in a couple of years I can have her be one of the dogs that visits children at our local large children's hospital. They have a wonderful program. I am spreading the word about your puppies and how happy we were with our pick up experience. It was very evident that you truly care about your puppies:)
Thank you, Susan Wilcox
July 2014
Hi Javin, I just wanted to write you to give an update on Nando (who is now named Whiskey)! After a very long day of traveling (their second flight was delayed over two hours) the puppies made it to Milwaukee. They were a bit lethargic at first but after a bit of water and some food they perked up quite a bit.
He has been such a joy to have! Such a wonderful personality and loves being my shadow…….
Sydney
Dec 2012
Hi Micah. Just wanted to let you know we picked up Kati last night. She is such a sweetheart! We are calling her Daisy, and my boys are playing with her now and having so much fun. Thanks so much, Merry Christmas!DEC 2012 Wanted to let you know that OUR Kandi is doing well! She mastered the stairs on our deck as soon as she saw Nala do it once. Has she done stairs before? She was fantastic on the car ride and hasn't been to bad with crate training. I think she likes her new big sister…..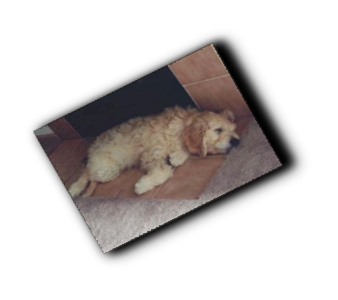 Jan 2012
We are so happy with our new puppy, Kandi. We are calling her Amber. She is wonderful with the children and very intelligent. Thank you! L Bree-AnneJAN 2012 We adopted little Cade, we call him Charlie. He is so intelligent, already knows how to sit and shake and is already potty trained! He's wonderful! Thanks so much!
S Leedy
Dec 2014
It will be over a year now since Mabel (formerly Elsie) joined our family. She is truly one of the sweetest, smartest, loveliest dogs I've ever had and such a big part of our family. She was potty trained in less than 3 weeks, and has never had an accident. She has perfect manners and is perfect when left home alone. People stop us on the street to ask to pet her. Everyone that meets her loves her.
You may laugh, but I think she is almost human. She watches TV, attends doggie daycare 3 times per week, rides the doggie bus, and has a vocabulary sit, heel, stay, down, shake, park, go potty, walk, ball, drop it, go get Daddy and get Hope. Mabel loves our resident orange male tabby cat as well and they chase each other. Her favorite past time is to play fetch with a tennis ball. She is a natural retriever. She is my velco dog and follows me from room to room, never in a needy way. I truly can go on and on about her!
Please let Gloria know that main reason for writing this email is to tell you never to worry about this puppy, Mabel will only know love her whole life. We will always have her best interest at heart. Here are some of my favorite pics: 1) Christmas 2013 2) at walk during daycare with her friends 3) Halloween 2013 4) her daily hugs 5) 1 year birthday celebration.
I've been begging my husband for another puppy from Maple Valley, and I may get my wish in late 2015 🙂
J Venezia, CA
Feb 2016
Hi! Mocha (from Kristies Litter) is the name for our mini golden doodle and he is doing very well! He is six month old and about 23 pounds. I can't describe the accurate size of him and I attached a photo to you instead. We are so glad to live the lives with Mocha!
Thank you so much.