---

Hi! I wanted to update you on Keith "Sheldon " he is 25 lbs and the light of our lives. Lulu tolerates his no puppy play but loves him. We are so thankful for him and wanted to share.
---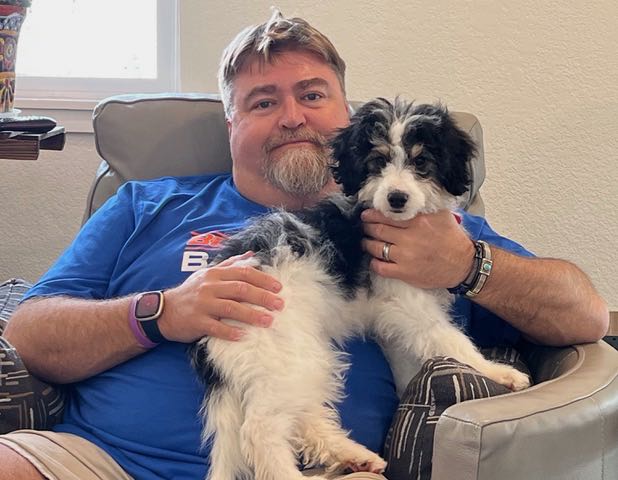 Thank you so much. We are in love with our new baby. You all did so much to make this happen.
---
He is wonderfully great! We love him so much. Thank you! We named him Hudson. The best part is my son is not allergic at all.
---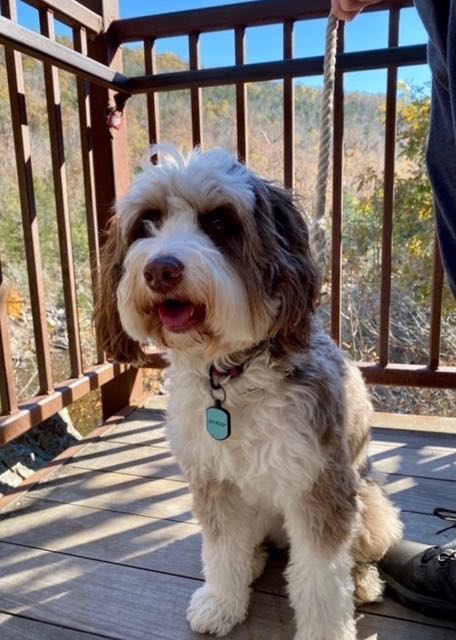 Just wanted to say thank you and send a picture update of our girl!
-Jamie M.
---
First of all, we are madly in love with this adorable, sweet, affectionate and playful puppy! You have brought us such a lovely puppy, and we feel so grateful for all you do to prepare these sweet dogs for their forever homes. Bennie is everything could have hoped for… and so much more! Our family has been over daily since his arrival to play with him, cuddle him, and take stroller walks in the neighborhood. Bennie is doing well on his potty training.. We remind him and take him out after meals, and within an 1 hour or less of playtime. He goes happily into his crate at night time. He gets up with a whimper (our alert) about 2 times during the night. I pick him up from his crate and take him out onto our bedroom balcony, which is covered in artificial turf. It is working out great.. and of course, Bennie is so smart and know just what to do..;)!!Today is the first day that I have had a moment to sit and catch up on emails and phone calls. Right now he is comfortably sleeping at my feet. He's a handful, but brings so much joy, laughter and happiness to everyone who meets him.
Thank you so very much!
– Risa and Marty
---
Wonderful family! Beautiful And Happy dogs! It was a very hard choice because all three puppies are awesome and very cheerful!
-Kathy S.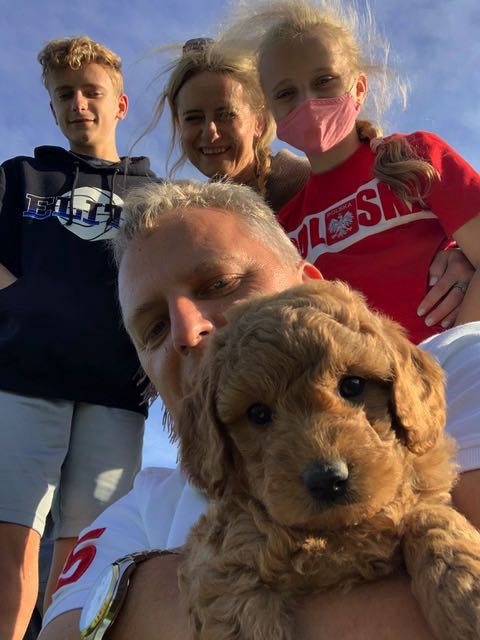 ---
She's settling in nicely in her new home. She even slept all through her first night. She loves her new orange balls and teddy bear. Please thank the kids for taking such good care of her for us.

-Rebecca S.
---
---
Hi, We adopted Andrew from Spunky and Annika's littler and he is the best dog ever! Would love to get him a brother. We are very interested… are they having puppies any time soon?

-Leslie S.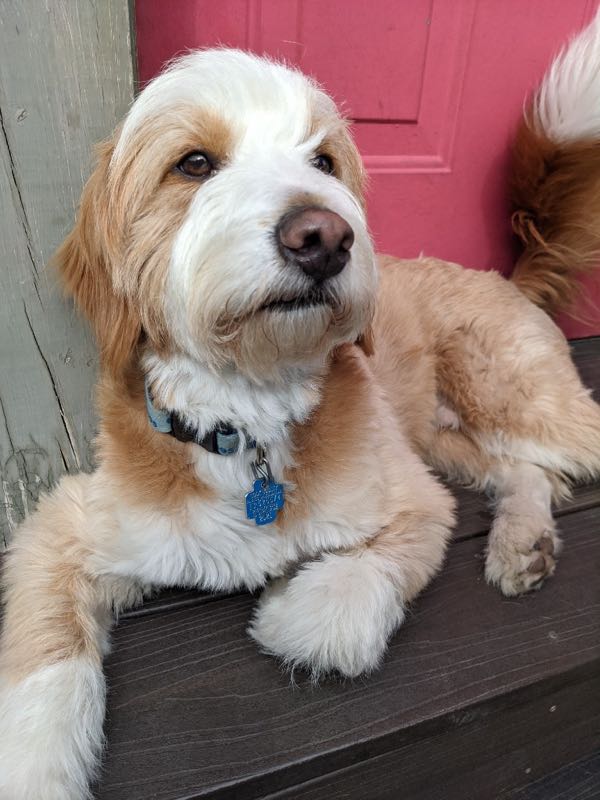 ---
I got a bernedoodle from you 3 years ago. Love him. Zandra and Sammy litter. I think his name was Caleb. We named him Bruno. This dog is the love of my life.
Thank you.

-Marisa U.
---
Hello, Rose-

Just wanted to give you an update on Summer, who we call Azula. She is wonderful! She is the best addition to our family and is having the time of her life meeting tons of new people and dogs in our neighborhood. We just love her. Thank you!

-Lisa H.
---
Hi Rose, Micah and Jacob. I'm happy to report that we now have a lovely little Goldendoodle (renamed Poppy) from Jacob to join our Bernedoodle (Juno). They are amazing dogs. Gentle but playful and very social. Must be the children who tend to them from their first days! My kids are so happy! Juno and Poppy were born exactly 3 years apart. May 31 2018 and May 31 2021.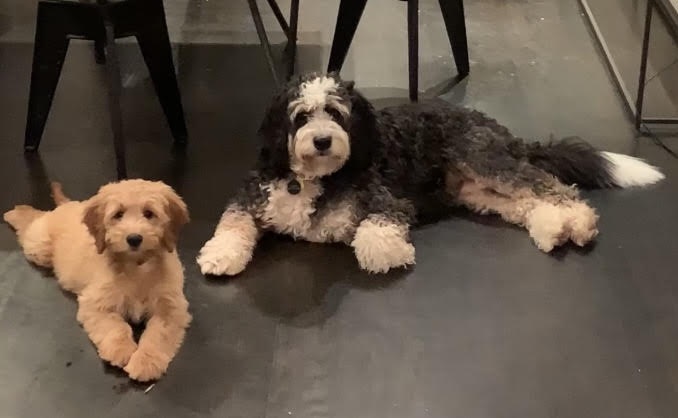 ---
Here are some images of Benny (Alex). He is such a smart boy and is already potty trained and knows his basic commands. He is such a joy to our family. Thank you so much!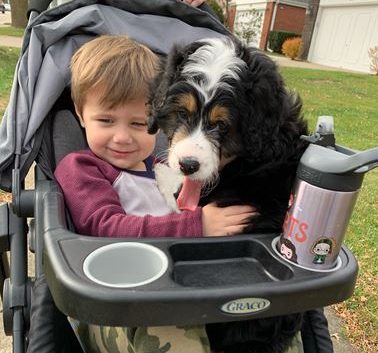 ---
Sophie is the absolute joy of our family, she is loving, extremely smart, full of personality and lots of spunk. We have had many poodles and poodle mixes and she has by far captured the hearts of us all beyond our wildest expectations. She loves to ride on our boat, play with her ball, love and kiss on anyone who she can and relax on top of the hottub! At doggie daycare she is Ms. Social and loves to play! She was a great companion for my dad during COVID as they did many hikes through the mountains of Vermont. She is about 28lbs full grown (5 years old as of Dec 18, 2021)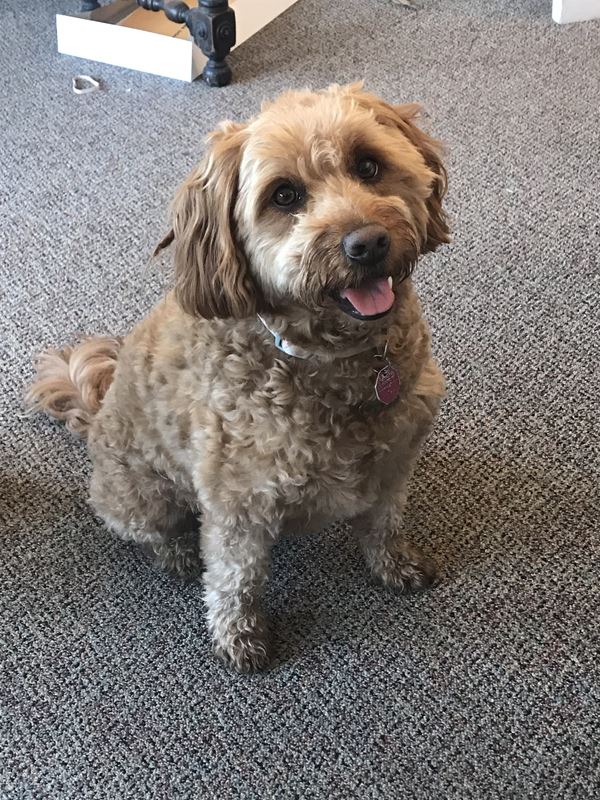 ---
Hi Rose!
I just wanted to send an update to let you know Dakota is doing great. He has been such a wonderful addition to our family and we just love him so much! He was six months old yesterday. He is super playful and wonderful with the kids. Everyone always stops to tell us what a handsome & happy puppy he is — and he truly is! He loves eating peanut butter, playing with his toys, running and digging on the beach, and cuddling for movie nights. He is growing up to be a big and strong boy, and he is super healthy. We wanted to send you some pictures so you could see just how great he is doing.
Thank you for everything,
–Eileen & kids
---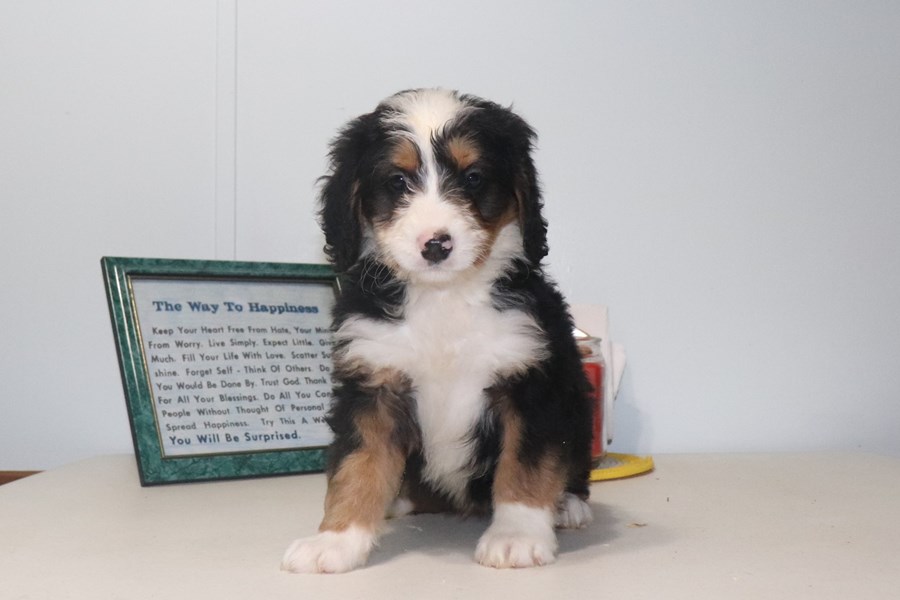 Ted Danson(above) is from Zandra's 2018 Christmas litter.
---
Hi Micah and Rose,
We wanted to send you a quick note to update you on our bernedoodle, Scotty who we renamed Bogey.
Bogey is a playful pup who is slowly becoming accustomed to the city life in Chicago. Because we have all been quarantined, it has been a great time to get out on long walks, play at the park and get a lot of exercise! His best dog friend next door, Ferris, keeps him on his toes and they spend time every day wrestling in his yard.
Bogey has not had an accident in the house in a few days and seems to understand the drill of going outside to go. He has slept in his crate through the night most nights and doesn't whine very much.
We are working on leash training and "come!" He is beginning to understand "look at me" and "sit" and basically just wants to do whatever his older brother, Fergus, is doing. He LOVES to snuggle with us and the term "personal space" means nothing to him. 🙂 Many people stop us and tell us how cute he is and we agree!
Overall, Bogey has brightened up our home and we are so grateful to have so much time with him right now while we are working from home. He continues to make strides every day and we can't wait to see all of the things he learns over the next few months. We can't thank you enough for taking such great care of him before he became part of our family. We are thrilled with Maple Valley Puppies and will definitely recommend you guys to anyone who asks for a lovable bernedoodle!
-Erin and Alex H.