---
Welcome to Maple Valley!
---
Looking for that perfect little furball to add to your family? Here's why you should choose us!
1. Health tested parents

See more details on our parents: click here
---
2. Birthed inside our home

All the puppies are born inside our home and live in our house until 5-6 weeks old. Then we move them to our 'puppy house' where they have access to the outdoors and more room to run and play.
---
3. 3 year genetic guarantee

See our full genetic guarantee here: click here
---
4. Our doggy parents are family pets and not kenneled

We are committed to never becoming a large scale breeder. Our dogs are all personal pets.
---
5. Socialized with children and other pets>

Having the puppies born in our home gives us lots of time with them from day 1.
---
6. 10+ years of experience.

We founded Maple Valley in 2012. Both of us (Micah and Rose) had prior experience with raising puppies.
---
7. Lifetime support-Facebook group

We are committed to every puppy and family's long term best interest. We have a private Facebook group, click here where families that have adopted puppies from us can connect and share updates as their puppies grow. We welcome questions, concerns and feedback for the entire life of your dog. If for some reason a puppy does not work out, we ask that you allow us to help in rehoming it.
---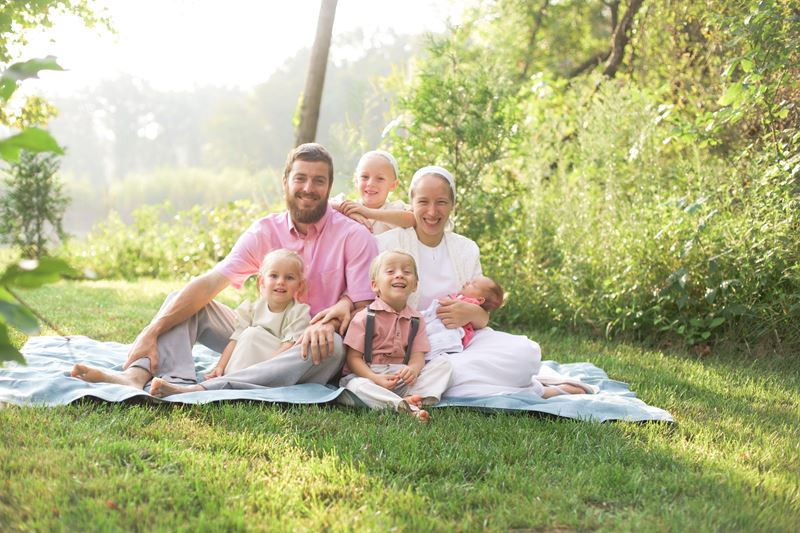 Meet Micah and Rose Raber. "We are a young family with 4 children. We have been providing our customers with loving healthy puppies for nearly 10 years! Every puppy is born inside our home. They receive lots of love and attention from the very beginning. We work hard to provide an outstanding adoption experience for you. As a busy family, we do ask that you have patience with us. There's lots of work that goes into raising puppies and connecting with customers. We look forward to helping you find your next fluffy member of the family!"
---
Maple Valley Puppies' Past Adoptions
Hi Micah,
I wanted to give you guys an update on Milo (formerly Stan). He is a wonderful pup with so much energy and personality! He is such a goof ball, so smart, and healthy! Thank you guys so much! We are thrilled to have him as part of our family.
---
Thank you so much for our adorable puppy! Charlotte (formerly Erica from Nacho & Emily) just turned 5 months old and weighs 9 pounds. We love having a little golden doodle! She is smart, funny and adorable! She is great with our grandchildren. She loves camping and going for boat rides. She is the perfect puppy for us! Our vet commented that she could tell Charlotte came from a good breeder and we agree. It was a pleasure to deal with Owen and with Charlotte's guardian family. Thank you!
–Nancy B.
---
We got a Mini Bernedoodle from Maple Valley and he is THE BEST puppy in the world. So very loving. The most playful dog, loves to cuddle and hug and kiss. Doesn't bark, very little shedding, potty trained in a month. Just everything about him is the sweetest!
–Katie M.
---
Southpaw is truly the love of my life. He's a perfect dog for Wyoming. And I love his personality, he's very sweet, he likes to cuddle. He loves to play he loves the snow he hates being hot, and he's got an absolutely delightful temperament. His fur does really well in this cold climate and barely sheds.
I absolutely love my mini bernedoodle and have sent other people your way to get theirs. Thank you very much for creating such an amazing dog.
–Amy Ringholz
Jackson Hole, Wyoming
---
Thank You Rabers!
We can't say enough about how much fun it has been to see Paisley (formerly Primrose of Nacho and Polly's June 25th litter) grow! She is a mini f1 with an apricot coloring. She quickly learned the commands "sit" and "down" after being brought home. After about three weeks she was mostly potty trained with few accidents. She is very calm and loving and she gets attention wherever she goes. She loves playing with her other dog roommate and doggie friends! The process of reserving, communicating with, and picking up Paisley from the Rabers was so smooth and I recommend Maple Valley to all who ask!!
–C. Sipp
---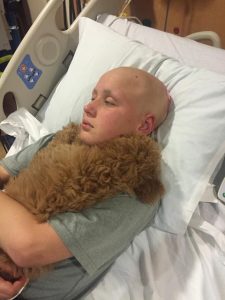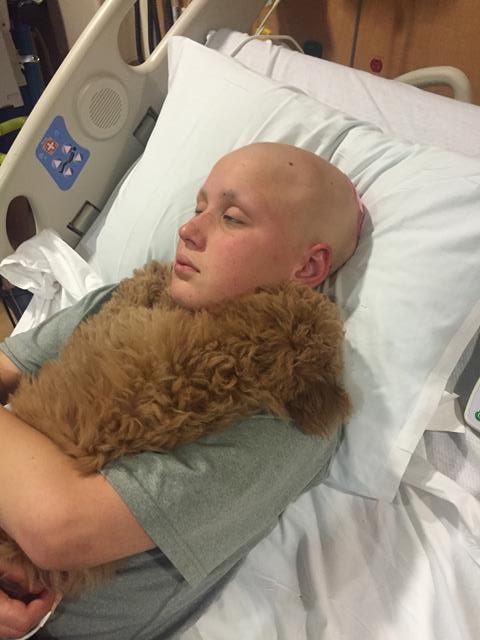 With the help from some dear friends Jasper (from a litter by Jessa/Nacho) was adopted on December 2, 2016 for our sweetest Luke Jones. Luke had been saving his $ for a toy Doodle while battling a hard fought battle with Brain Cancer. And a Toy Goldendoodle was just what Luke needed. In the short 8 months that Luke got to spend with his beloved Jasper he brought him so many smiles and memories I will forever be thankful. Jasper helped Luke get through the hardest days of his life, he made him smile, laugh and the best cuddle partner there ever was. Sadly Luke was called home to heaven on July 21, 2017. Luke was never alone with the help of Jasper, his parents Chad, Nikki and older brother Caleb. Jasper is of course still residing with Lukes parents and brother and I am still trying to figure out a way to dognapp him!! We visit them often and sweet Jasper is always the first to greet us at the door. The first photo is the day Luke was surprised with him. The second photo is the day we snuck him in to see his family at Riley Children's Hospital and yes they were all surprised and the last pic is Jasper a month ago. Thank you Maple Valley Puppies for bringing a sweet happy smile to Luke's face.
–Mary Jo
---
Shannon now Lilly is amazing we love her SO much, she's honestly the best dog we could ask for, very mellow and calm, no shedding at all except when we brush her. She's a little over a year, they were born last August, but she definitely is calmer than your average puppy, she loves her ball and all her chew toys. She doesn't bark and is very smart she just LOVES jumping on people when they walk in the house, she loves people interaction so we are trying to end that but I think everyone loves it when she does it anyways(: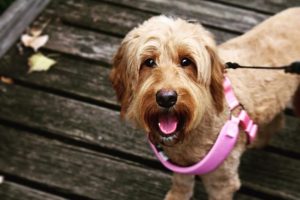 ---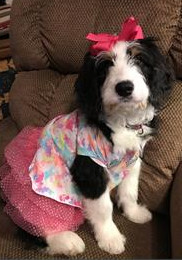 2017
Hi Owen! I just wanted to write a few lines and give you an update on our Stella (Dalisha). She will be 17 weeks in two days and 20 lbs. We are just in love with her. She is exactly what our little family needed. She fit right in with her big brother and sister Titus and Margo. Her and Titus have become the best of friends and are inseparable. She is full of spunk and SUPER SMART. We all laugh at her silliness and her little facial expressions. She's got a lot of personality and is so lovable. She walks around on her hind legs begging to be picked up and carried. I guess you can say she's spoiled rotten. She loves to go for rides in the car and any squeaky toy she can find. She has one more round of puppy shots before I get her spayed. Everyone at the veterinary office thinks she is just a delight. Thank you for raising such wonderful bernedoodles. I've had a lot of people ask where I got her from and I recommended maple valley puppies. Thank you so much for our little Stella Mae. We love her so much!
–Renee Boyd
---
I recommend Maple Valley to everyone who inquired about him (which are many, many people). 🙂
Have a lovely weekend!
---
What is a Goldendoodle?
From Wikipedia, the free encyclopedia
A Goldendoodle is a mixed-breed dog, a cross between a Golden Retriever and a Poodle. The name Goldendoodle was coined in 1992 by combining "Golden", from Golden Retriever, and "doodle" as in Labradoodle. Poodle hybrids have become increasingly popular and it is likely that the combination of Golden Retriever and Poodle has been duplicated by breeders in various countries at different times.
History
The first Goldendoodles were likely due to accidental breeding between Golden Retrievers and Poodles. Later, in the 1990s, intentional crossing of Golden Retrievers and Standard Poodles was done in both North America and Australia.
The Goldendoodle is usually bred to be a family companion dog. Some are bred and selected for careers in service to humans as Guide Dogs, Therapy Dogs and other types of assistance dogs.
Many people select a Goldendoodle because they love Golden Retrievers, but would prefer a dog that sheds less hair. Some have lost their Golden Retriever or Poodle to cancer or inherited disease, and hope that the hybrid cross will give their new pet a better chance of reducing those risks. Others may desire a dog that may not affect their allergies, although not all Goldendoodles will exhibit the low shedding coat type of the Standard Poodle. Cross-breed dogs do not exhibit standard characteristics, and while Goldendoodles may shed less than a Golden Retriever, the degree of shedding will vary from dog to dog. Grooming requirements are as varied as coat types, with the least shedding coat types requiring more regular grooming than the coat types that shed.[6] While some breeders claim that the Goldendoodle is a hypoallergenic dog, allergists warn that there is no such thing as a truly hypoallergenic animal. There have been no studies to date verifying that any canine is completely hypoallergenic.[citation needed] Goldendoodles can make good bird dogs if they inherit those characteristics from the Golden Retriever parent. Goldendoodles often are good swimmers, a characteristic of both parent breeds.
Like any other cross-breed, the Goldendoodle varies from individual to individual, displaying differences in size, coat type, and color. A Goldendoodle s size is generally somewhere between that of the Poodle and the Golden Retriever parents, and the range includes standard, medium and miniature. Some standard-sized Goldendoodles have weighed over 100 pounds. Upon reaching adulthood, a standard Goldendoodle will often weigh 45 pounds or more; a medium Goldendoodle will weigh between 30-45 pounds, and a miniature Goldendoodle will weigh approximately 15 to 30 pounds.
Goldendoodles have different coat types: wool, fleece, hair or a combination. The wool coat is more like a traditional poodle coat. A fleece coat can be either curly, wavy or straight, with hair more similar to that of a golden retriever. As a general rule, the more curly the Goldendoodle s coat, the less shedding there will be as the dog has more features of the poodle coat. Common colors are white, cream, apricot, gold, and red. Less common colors are black and silver. Rarer colors include brown, parti, and phantom.
Goldendoodles are classified as various types depending on the breed of the Goldendoodle s parents. Standard descriptions include:
F1 Goldendoodle = offspring of a Poodle mated with a Golden Retriever
F1B Goldendoodle = offspring of a Poodle or Golden Retriever mated with an F1 Goldendoodle
F2B Goldendoodle = offspring of two F1B Goldendoodles.
Temperament
Similar to the Golden Retriever and the Poodle. Intelligent, affable, trainable, very human oriented, yet friendly toward other dogs. Moderately high energy dogs, much like their parent breeds.
The Goldendoodle is not a purebred; rather, it is a specific type of mixed-breed dog or crossbreed. As such, it is not accepted for registration by recognized registries of purebred dogs such as the American Kennel Club, the Canadian Kennel Club, or The Kennel Club (United Kingdom).
Some breeders prefer to restrict breeding to first generation (F1) dogs (i.e. offspring of a Golden Retriever and Poodle mating) in order to maximize genetic diversity, and thus try to avoid the inherited health problems that have plagued many dog breeds. Other breeders maintain that a Backcross (F1B) Goldendoodle (i.e. offspring of a Goldendoodle and Poodle mating) is less likely to shed, and may therefore be more suitable for people with allergies to fur and/or dander. The offspring of a F1B cross are genetically 75% Poodle and 25% Golden Retriever. Still other breeders are attempting to take this one step further and develop the Goldendoodle as a breed via selective breeding.