2015
Just wanted to send you all some photos. She is growing and doing so well.
The vet that we take her to made her their profile picture online.
Everyone just loves her! We hope you all are doing well. -Amie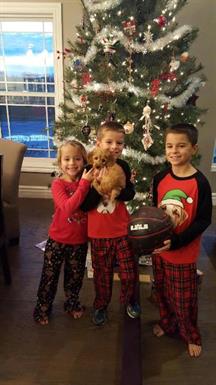 Dec 2015
Merry Christmas!
I wanted to send you a picture of my kids this morning with Lauren!
They absolutely love her and she couldn't be sweeter!!
We are so excited to watch her grow !
We named her Macy!
Mandy S.
Dec 2015
She's fitting in with the family.Thanks,
Jennifer R.
Dec 2015
Zeke was Zane and Zayna was Zerena. Both are doing very well and learning to use the poochiebells to go outside. We just love them!Terry and Teresa V.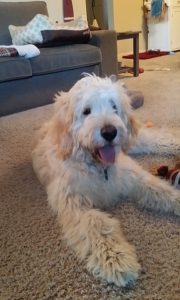 Hi Micah,
Wanted to let you know Asher is doing wonderfully. He was paper trained within a week and started going to the door in the 1st 2 weeks.
He's learned to walk next to me without a leash and heels when on the leash. His tricks include sit, right and left paw, cime to his name and my whistke, down and crawl across the room. We're going to begin the STOP command – tough one.All of this and he is just shy of 4 months. He is kind and gentle and growing like a weed – he was 11 lbs June 3rd, 22 lbs July 1st and 37 lbs August 3rd.I know you don't have a regular desk top but I've included some pictures – all a month apart- that naybe you could look at elsewhere.
Thanks much
J.C.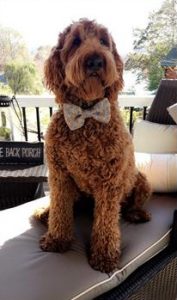 Dec 2015
Thank you so much for Travis he is doing great. His new name is bo. He is one of the sweetest and smartest dogs. He is already sitting, and almost potty trained. I will definitely recommend you got any one wanting a goldendoodle.Sincerely the R. Family.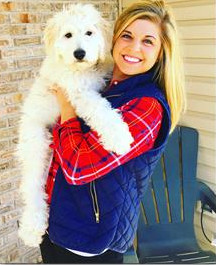 Hi Micah and Rose!Just wanted to shoot you guys an update of my little guy! Louie, (formerly Matt from Lucky and Nikki's litter) is doing amazingly well! He is loved by all who meet him and he has many admirers. He is potty training like a pro and will be starting puppy classes soon.
His favorite things are giving puppy kisses and playing fetch with his mom!I recommend Maple Valley to everyone who inquired about him (which are many, many people). 🙂
Have a lovely weekend!
NOV 2015
Nacho will be 10 months old on the 25th and he is currently 72 pounds (mainly fur) He's a true joy to us!Sarah D.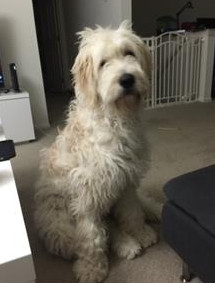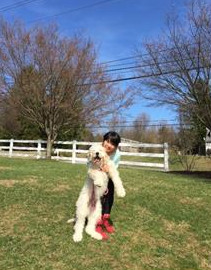 May 2015
….Zeke (previous name is Tobias) is 7 month now, and he's doing very well. He's such a great dog—Smart, intelligent, well behaved, obedient, healthy, loving, good temperament, easy to take care of, and easy to train. He use to get us the newspaper at the end of our driveway every morning, it was like he was born to get the newspaper! He also loved sports and seemed to know how to dribble a basketball.We do love him so much! He can get along well with our another smaller 2 years old goldendoole Pudding, and they are intimate friends, they like each other:) Thank you so much for your successful business and bring our most important family member,I put some photos on ZEKE in the attachment:)Best wishes, Shuhong & Daobin
Just wanted to update you, Sherri now Stella is doing great! Her and our other puppy, Guinness, are becoming quick friends. She is doing great on potty training, and is working on kennel training. She has also became a puppy model at our local restaurant haha here are some pictures! We can update you again when she's a bit older! She's a big hit with all the dogs in our building and the neighborhood, thank you guys!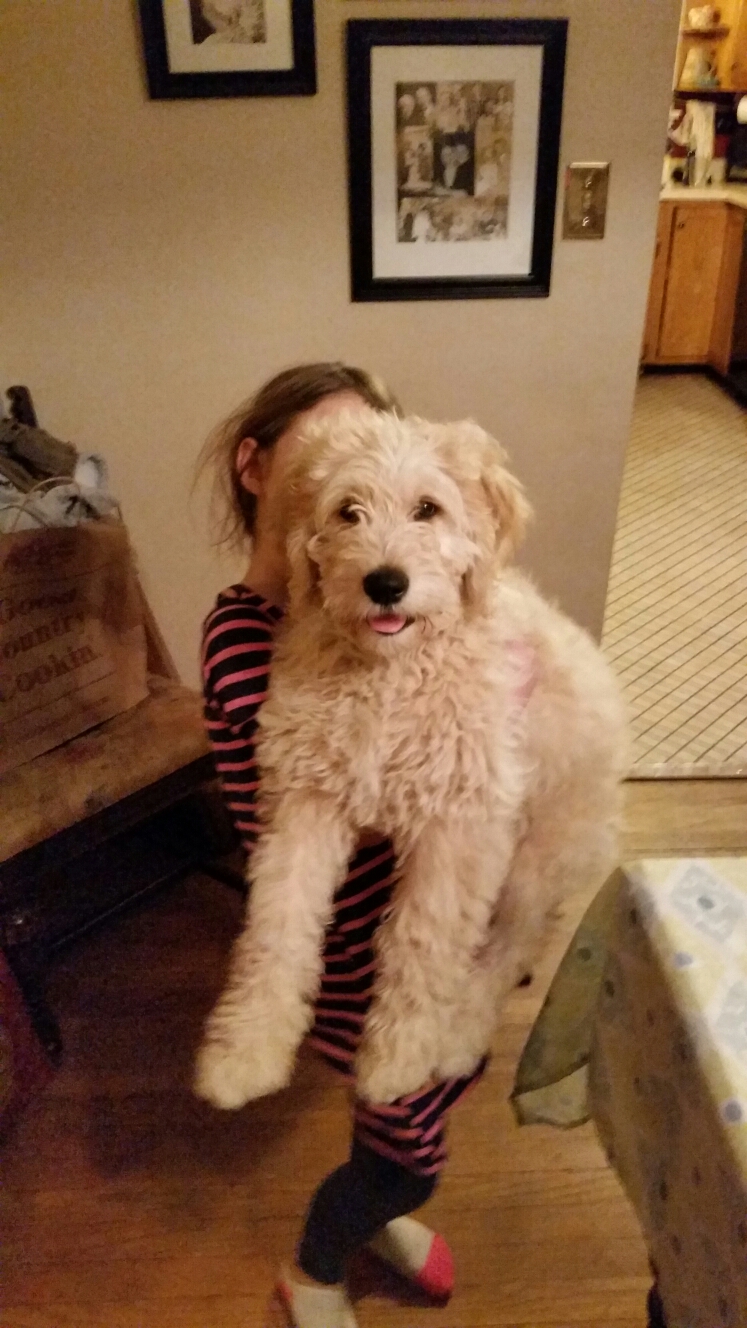 Hello, just thought I would update u on Jaspen who we renamed Hitch. He is doing great and is now 4 months old and a great addition to our family. Hitch loves water and snow and is great with the kids thank u for everything and we will be back for another gooldendoodle.
Thanks
Jeremy S.