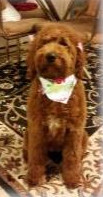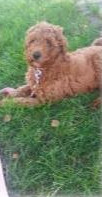 Jan 2015
Hi Rabers!, Just wanted to send you an update on our Kashi. We decided to keep her name that she was given by you guys. She is our little princess. We had been looking at her on your website forever before we made the decision. When you updated your website and added descriptions of each puppy, you described her at "cuddly and laid back".. we knew it was meant to be! She hasn't changed much. She is such a little snuggler. We are grateful that we got such a perfect puppy to add to our family. We always get stopped by people telling us how adorable she is and how she looks like a little teddy bear. She will be 7 months old this month (born June 22nd) and is about 30 pounds already. She is such a smart little girl and knows a ton of commands. Kashi absolutely loves playing in the snow here in Northwest Indiana. Here are some pictures of Kashi!Sincerely, Cassie and Chris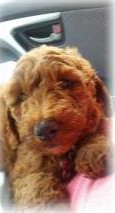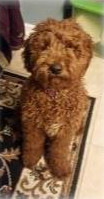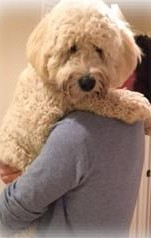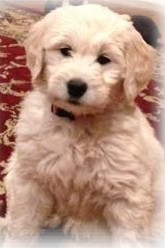 Dec 2014
It will be over a year now since Mabel (formerly Elsie) joined our family. She is truly one of the sweetest, smartest, loveliest dogs I've ever had and such a big part of our family. She was potty trained in less than 3 weeks, and has never had an accident. She has perfect manners and is perfect when left home alone. People stop us on the street to ask to pet her. Everyone that meets her loves her.
You may laugh, but I think she is almost human. She watches TV, attends doggie daycare 3 times per week, rides the doggie bus, and has a vocabulary sit, heel, stay, down, shake, park, go potty, walk, ball, drop it, go get Daddy and get Hope. Mabel loves our resident orange male tabby cat as well and they chase each other. Her favorite past time is to play fetch with a tennis ball. She is a natural retriever. She is my velco dog and follows me from room to room, never in a needy way. I truly can go on and on about her!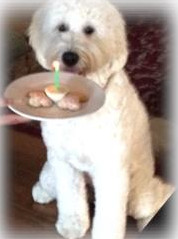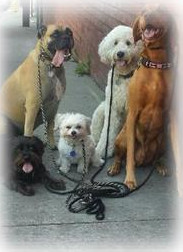 Please let Gloria know that main reason for writing this email is to tell you never to worry about this puppy, Mabel will only know love her whole life. We will always have her best interest at heart. Here are some of my favorite pics: 1) Christmas 2013 2) at walk during daycare with her friends 3) Halloween 2013 4) her daily hugs 5) 1 year birthday celebration.
I've been begging my husband for another puppy from Maple Valley, and I may get my wish in late 2015 🙂
J Venezia, CA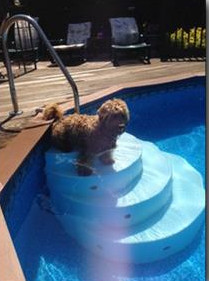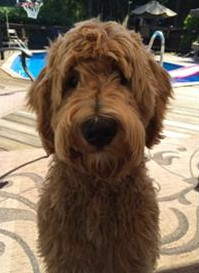 JULY 2014
Maverick (Kadin) is up to 45 lbs! He LOVES hiking and swimming. He does tons of tricks and is the sweetest little puppy we've ever known. He couldn't be any more perfect. Not sure if you saw my last email below but hope all is well! Thanks!Dave K.
July 2014
Hi Javin, I just wanted to write you to give an update on Nando (who is now named Whiskey)! After a very long day of traveling (their second flight was delayed over two hours) the puppies made it to Milwaukee. They were a bit lethargic at first but after a bit of water and some food they perked up quite a bit. He has been such a joy to have! Such a wonderful personality and loves being my shadow…….Sydney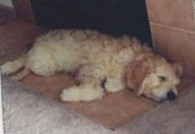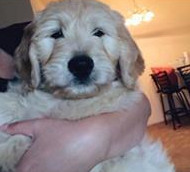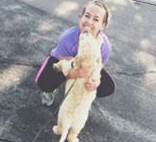 MAR 2014
Hello Gloria! My husband David and I drove from Michigan last year on April 6th to pick out one of your puppies. You even were so generous to give us a $50 discount because of our work with a mission organization called New Tribes Mission – taking the gospel to people in remote jungles of the world to teach them about our Lord.We came and picked out Saville for his fluffiness and feistiness! and he sure has lived up to both of those descriptions! But he really has an incredibly fun and even temperament.We named him Graham. He is so smart and social and perfectly excited and lazy at all the right times.We work at a New Tribes Mission training school in Michigan and we have students over all the time. They've all become great friends with Graham and sometimes they'll even stop by the house in the afternoon to see if they can take Graham on a walk! He loves it!:) We've done all the training with him we can through PetSmart's training classes and he's excelled…REALLY so smart!!!!! He's about to take a test in the next couple weeks for his Canine Good Citizen Award which officially recognizes him as a consistently well behaved dog and us as responsible owners who have consistent control over our dog. It will mean we can take him into some home improvement stores and some hotels and other locations as well.Our experience with your family as breeders and with the quality of pup we've received from you has been above and beyond 100% satisfaction. We couldn't be any more pleased.I would love to send some pictures of Graham all grown up (mostly). He's just over 75lbs and potentially still growing!Let me know if I can send some pictures, I'd love to hear from you!Hope your family is doing well.:) Kristi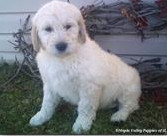 Jan 2014
Our Caesar, formerly Edger, is an amazing puppy!
He is very smart, a quick learner and great with our kids. I would recommend your puppies to anyone who is looking for a family dog.~A.F.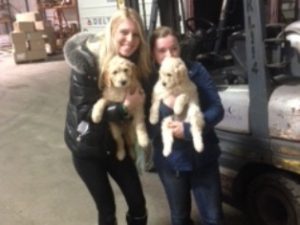 Dec 2013
Hi Gloria and family,
I hope you all are enjoying your holiday season and looking towards the new year! Nevada has been renamed to Alonzo "Lonz", to match our family of "A" names. He's very sweet and has nice manners already! He heels to my side, sits and generally let's us know when he needs to go out. We have a few accidents here and there- but it's normally when he doesn't want to take a break from playing with his new kid brother and sister.It turns out the other puppy he was shipped with lives right down the road from us- also on the lake. We are going to get puppy dates together once the weather breaks.Thanks again for everything! We love our newest member of the family!
Amanda B.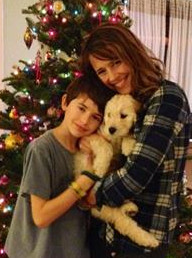 Dec 2013
She is doing great!!! A total love. Vet tomorrow. Been taking her on walks and everyone loves her . She's been meeting friends and family and loves everyone. Thank you!!!~ From Ava (aka Eva), Maggie and Marcus!!
Dec 2013……..good to talk with you yesterday, Gloria. as I mentioned to you on the phone, our "doodles" are blessing our lives with their loving affection, playful attitudes & sweet natures. Although larger now (70 pounds at 10 months old) than we expected, their good behavior allows us to not be overwhelmed. It has been a joy to see them grow up and their loving attachment to one another and to us.
~ The G. Family
---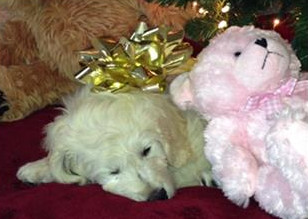 Christmas Day 2013
Thanks to Kate Johnson and her Goldendoodle "erica"
APRIL 2013
Good Morning Gloria!! I hope you got my message from yesterday that "Logan" arrived beyond safely!! OMG, We love him!!!!!!!! He did so well last night, only got up twice-seriously, he is just perfection!!!!!!! I am writing to you to get your email address so I can add you to the Shutterfly site I created to see his pictures…if you can email that would be wonderful! Again, thank your brother, wish him a glorious wedding day and great big hugs to you!! Our family is indeed blessed!
APRIL 2013
Hi Gloria, We have been having SO much fun with our puppy Stacey, who we've named Willow. She is so energetic, but cuddly at the same time. She was the perfect fit for our family. We love her! Thanks again! ~Jenn
JAN 2012
We adopted little Cade, we call him Charlie. He is so intelligent, already knows how to sit and shake and is already potty trained! He's wonderful! Thanks so much! S.L.
DEC 2012
Hi Micah. Just wanted to let you know we picked up Kati last night. She is such a sweetheart! We are calling her Daisy, and my boys are playing with her now and having so much fun. Thanks so much, Merry Christmas!DEC 2012 Wanted to let you know that OUR Kandi is doing well! She mastered the stairs on our deck as soon as she saw Nala do it once. Has she done stairs before? She was fantastic on the car ride and hasn't been to bad with crate training. I think she likes her new big sister…..
JAN 2012
We are so happy with our new puppy, Kandi. We are calling her Amber. She is wonderful with the children and very intelligent. Thank you! L Bree-Anne